About the ebook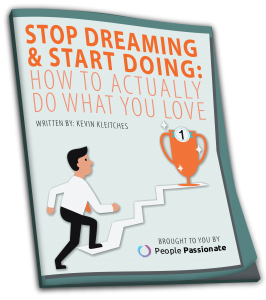 I was motivated to write Stop Dreaming and Start Doing: How to Actually Do What You Love after receiving countless emails from my readers about their struggles of finding and pursuing their passion. I wanted to write something that inspired creatives out there to use their voice and create their art.
I teamed with a graphic designer to bring the ebook to life with fun illustrations. It's also nice and short, and can easily be read in one sitting.
How to get your copy
You can get a free copy of Stop Dreaming and Start Doing: How to Actually Do What You Love by joining my email list.
This will automatically subscribe you to free updates and other occasional goodies (e.g. other books and offers and such). I will always respect your privacy, and you can opt out at any time. Once you confirm your email address, you'll receive a private link to the PDF that you can download.
After You Finish Reading…
If you've already read Stop Dreaming and Start Doing, I want to personally thank you. I've love to know what you thought of the book.
Please share your thoughts and feedback in the comments below. If you enjoyed it, you're welcome to share it with others. Here are a few options:
I'd also like to invite you to join my private Facebook community of creative artists and entrepreneurs. It's an awesome place to meet other inspired, creative people just like yourself. I think you'll love it.
Thank you so much for being a reader. I appreciate you. Keep making your art!